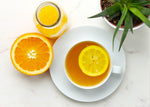 Feeling a bit under the weather! Try this delicious Turmeric Elixir, its loaded with warming spices like ginger, cloves and cinnamon and an anti-inflammatory powerhouse turmeric and it's sidekick black pepper in addition to vitamin C from freshly squeezed orange juice and a slice of lemon!   Ingredients:   Turmeric Teas Winter Blend - 1tsp Water to steep tea - 3/4 cup Orange Juice - 1/4cup Slice of lemon - 1   Method:   Stove top: Add all the ingredients except the slice of lemon to a pot and bring to a boil. turn the heat off and let it...
---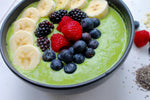 I am loving this smoothie bowl trend. Whoever started is a genius, I like spoonfuls of goodness loaded with smoothie and a ton of nuts and fruits that I garnish it with.  This dairy free green smoothie is extremely refreshing, makes for a great breakfast and also a wonderful afternoon snack. The secret refreshing ingredient is mint. I used fresh mint and turmeric for this bowl but have made it several times using mint tea. Wondering what mint is good for? Mint is a natural stimulant, it relieves from fatigue and depression. It is also great for digestion, the menthol...
---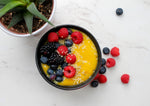 Breakfasts made brighter with this sunny Turmeric, mango smoothie bowl. Super easy recipe and loaded with not just delicious flavours but also anti-inflammatory properties of mango, turmeric and ginger. If you think it's difficult to eat healthy, you need to try this bowl! You will be converted for life. Did you know pineapple, mango and papaya are the three main anti-inflammatory fruits that have proteolytic enzymes with anti-ulcerative and anti-microbial properties. These fruits help with digestion and breaking down other foods. Turmeric and ginger have many health benefits and both are anti-inflammatory powerhouse and when combined with just a pinch of black pepper our bodies absorb 2000% more curcumin from...