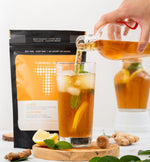 A perfectly blended chai iced tea to energize your day. This caffeinated refresher is made with organic spices such as turmeric, ginger, cinnamon and cardamom, that boost your immunity one sip at a time. 
Serves 1 | Ready in 10 mins
Ingredients:
Method:
Steep 2 teaspoons of DAWN loose leaf tea

 

in 1 cup hot water for 5 minutes (or 2 DAWN tea bags). Let tea chill in the fridge. 

Pour over a glass of ice and enjoy!
Optional
Garnish with mint leaves and add your sweetener of choice.