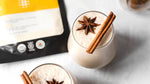 Serves 6 | Prepare in 5 minutes
I don't know about you, but the holiday season is just not the same without eggnog. But, eggnog is filled with sugar and cholesterol. That's why we created a delicious plant-based 'eggnog' recipe that tastes like the real deal minus the sugar... and the eggs. We sweetened this 'coconutnog' with dates and gave it an anti-inflammatory boost by using JOY, our turmeric latte blend. Now you can enjoy this tasty holiday beverage while reaping in the benefits of turmeric! 
Ingredients:
3 Cups of

Unsweetened

Coconut Milk

 

300 ml of Full Fat Coconut Milk (only use the hardened parts)

 

1 Tsp Alcohol Free Vanilla

 

1/8 - ½ Tsp of

Turmeric Teas

JOY

 

1 Tsp Nutmeg

 

½ Tsp Cinnamon

 

2 – 4 Dates

 
Directions:
Add all

ingredients

to a blender.

 

B

lend all ingredients until smooth.

 

Pour into a glass and top with nutmeg and star anise. 

Enjoy!