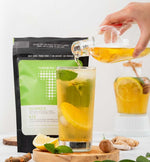 A lively and thirst-quenching mint iced tea is waiting for you. This immune boosting refresher is made with organic herbal tea crafted with peppermint (great for digestion) and turmeric (helps fight inflammation).
Serves 1 | Ready in 10 mins
Ingredients:
Method:
Optional
Garnish with mint leaves and add your sweetener of choice.