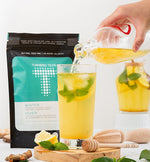 A refreshing iced tea with a kick. Not only will this herbal iced tea satisfy your taste buds, but also give your immunity a boost with the healing spice of ginger and the anti-inflammatory benefits of turmeric.
Serves 1 | Ready in 10 mins
Ingredients:
Method:
Optional
Add your sweetener of choice.