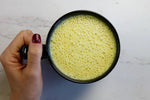 Lately,  I have been just craving this warming, frothy Turmeric Latte - made with our Turmeric Superfood Latte blend (I mean look at it?.. How could I not crave this?!)
It's the perfect beverage to get you through the Winter months. To make this, I use our organic Superfood Latte Blend, now available to purchase
online
. The blend is a delicious mixture of ginger, turmeric, ashwagandha, cinnamon, and black pepper (to aid in the
body's absorption of turmeric
). 
These SUPER-ingredients are rich in vitamins, antioxidants and immunity boosting properties to keep you healthy and your mind calm. In fact, ashwagandha is considered an "
adaptogen
" - a substance that helps you cope with daily stress and anxiety. It is also anti-inflammatory, like turmeric & ginger, making this drink ideal for anyone suffering from inflammation or other aches and pains!
To make yourself a frothy Turmeric Latte, all you need is the following: 
Method:
Warm the milk and water 
Add everything to the blender (Vitamix works like a dream!), blend and enjoy 
Checkout this short video showing the step-by-step instructions!
.... it's that simple! Sip-on, and stay healthy :)