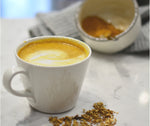 We always strive to establish strong relationships with our customers (which is pretty easy when they are all so amazing & inspiring!) and over the past 6 months we've had the pleasure of getting to know the lovely people at Grosche International. 
Grosche is a social enterprise based out of Cambridge Ontario that sells craft coffee and tea accessories as well as an extensive assortment of coffee and bulk teas. They are committed to installing water filtration systems within communities around the world affected by the water crisis. In their own words:
 Our mission is to help those affected by the safe water crisis. We fund that work with the sale of our coffee and tea wares. We provide people with sustainable water purification means for their daily water needs. We also provide them with education on safe water use and sanitation. By doing this work in six countries we are having a global impact. All supported by you, our customers.
 Their saying - Every Cup Fills Another - reminds us of our own social mission - Buy 1 Feed 1 - so it was only a matter of time until we found each other!
Grosche has been carrying the complete line of Turmeric Teas now for a few months in their boutique in downtown Guelph, and recently they started serving a warming Turmeric Latte made with our Turmeric Superfood Latte Blend. They were kind enough to share their go-to recipe for this warming Latte:
Place 1/2 teaspoon of the Turmeric Superfood Latte Blend into a matcha bowl
Break up the any bits with a matcha whisk
Add ¼ cup of hot water into the bowl and whisk thoroughly
Whisk in 1-2 teaspoons of honey or maple syrup
Steam ¾ cup of milk to 150 degrees – we use 3.25 homogenized milk (substitute with  almond, skim, coconut, or soy milk)
Pour the turmeric concentrate into mug and add steamed milk
Top it off with some ground cinnamon!
Sip-on & Stay warm out there! And next time you are passing through downtown Guelph, be sure to stop in and say hello to the Grosche Team!