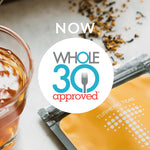 At Turmeric Teas our mission is to always bring you healthy products made with the utmost transparency and integrity.  With this in mind, we are excited to announce that we have received third party endorsement from The Whole30® ! Our products will now carry The Whole30® Approved label.
In addition to being 100% compliant from a dietary stand point, our core principles and the way we operate our company were also evaluated. We are found to align 100% with The Whole30® value system.
For those of you who are not aware of this organization, here's what you need to know.
What is Whole30® and how does it benefit me?
Whole30® is a world renowned dietary program which provides a 30-day nutritional reset designed by Melissa Hartwig to:
end unhealthy cravings and habits
restore a healthy metabolism
heal your digestive tract
balance your immune system
What exactly does the program involve?
Basically it's an eating approach that incorporates the following:
1) Only eating real food:
This means plenty of vegetables, eggs, seafood, meat and some fruit and loading up on natural healthy fats, herbs, spices and seasonings.
If eating prepared foods chose ones with very few ingredients and all pronounceable ingredients.
Note that Ghee or clarified butter; gluten free vinegar, coconut aminos and salt are ok as is real "do it yourself" freshly squeezed juices….in moderation.
2) Avoiding the following foods for 30 days:
Added sugar, real or artificial. This includes:

 

maple syrup, honey, agave nectar, coconut sugar, date syrup, stevia, Splenda, Equal, NutraSweet, xylitol, etc. Read your labels very carefully. Companies often sneak sugar into products in ways it is hard to recognize.
Alcohol, in any form, not even for cooking.
Tobacco Products
Grains
Legumes
Dairy:

 

This includes cow, goat, or sheep's milk products like milk, cream, cheese, kefir, yogurt, sour cream, ice cream, or frozen yogurt.
Carrageenan, MSG, or sulfites.
Baked goods
Junk foods
Treats

 

with "approved" ingredients: g. gluten free grain free baked treats such as muffins and pancakes
3) Eat as close to the earth as possible and when in doubt, leave it out. It's only 30 days.
4) Do not step on the scale or take any body measurements for 30 days. 
The Whole30® is so much more than weight loss. Avoiding compulsive weight measuring habits is healthy both for the mind and the spirit.
This amazing program really will reset your body.  If you can manage this at least a couple of times per year you will find that the good habits will stick, and you will come closer to eating like this full time.  The way you feel, and look will be its own reward and the hormones released due to the reward benefits will drive your future behavior and newly formed healthy habits.
If you would like to explore the program in its entity, please visit https://whole30.com
Add a delicious immune boosting cup of turmeric tea or latte in your Whole30 routine with Turmeric Teas.