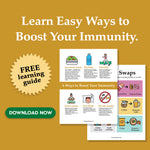 Social distancing will definitely help flatten the curve, but a healthy Immune system is the best defense against viral infections like COVID19. One of the best natural ways to do so is to include Turmeric in your diet. 
Turmeric has been used for centuries in Indian cooking and healing, as a treatment for wounds and reducing pain and swelling. In traditional Chinese medicine, it has been used for treating and preventing a wide array of ailments.
How Turmeric Boosts Immunity
Renowned as nature's medicine, turmeric has an active ingredient called curcumin, which has been sited for its powerful anti-inflammation and anti-antioxidant effects. As inflammation is a major antecedent for a range of illnesses and diseases, the medicinal applications for Turmeric are vast.
Below are just a few of the 600 confirmed health benefits of Turmeric.
Anti-inflammatory:
Turmeric has been shown to regulate numerous transcription factors, cytokines, protein kinases, adhesion molecules, redox status and enzymes that have been linked to inflammation.
Anti-bacterial:
Turmeric acts as an excellent anti-bacterial, anti-viral and anti-fungal that protects our immune system from numerous bacteria, germs, toxins and illnesses.
Aids digestion and reduces heartburn:
Turmeric is an alkalizing food, which helps balance the pH level in the stomach.
Prevents memory-loss:
Turmeric inhibits the inflammation in Alzheimer's disease by reducing oxidative damage and decreasing the beta-amyloid peptides in the brain.
Prevents cellular damage:

 
Turmeric helps protect from free radicals in the body that lead to cellular damage of DNA.
Maintains heart health:
 Turmeric helps dilate the arteries which allows for a smoother flow of blood through the heart and arteries.
What to Take with Turmeric 
Many people like to consume turmeric by adding it to their dishes while cooking. But did you know that curcumin has a low bioavailability in our body? Bioavailability signifies how readily absorbed a substance is.
In order to increase the bioavailability of curcumin, and to reap its benefits, turmeric must be combined with black pepper. Black pepper's main active molecule is piperine, which is known to enhance the absorption of curcumin by 2,000%. 
How to Intake Turmeric
Turmeric Teas  is an easy and delicious way to include turmeric in your diet. Turmeric Teas has a line of loose leaf tea, tea bags and latte blends that all have a mix of turmeric and black pepper to maximize the benefits of turmeric. 
Turmeric Teas  Summer tea blend is perfect for Summer, but can also be enjoyed any day of the year. It is a cooling tea with peppermint.The tea contains fennel seeds to support bone structure and digestion. 
Turmeric Teas  Dawn tea blend is perfect for the morning. Whether you're an avid coffee drinker or you're just looking for a new tea option, this tea blend will definitely satisfy you. It's the only tea blend with caffeine, it also has notes of cinnamon and cardamon.
Turmeric Teas  Dusk tea blend is perfect for those looking to unwind. It is made with lemongrass, which is known for reducing anxiety and allows for relaxation. It also contains ginger and fennel seeds, both which help improve digestion.
Turmeric Teas  Winter tea blend warms the body, perfect for cold months. It is made with Turmeric's cousin: Ginger! Ginger is known to work hand in hand with Turmeric to reduce inflammation in our body. It is also helpful to treat nausea and sore throats. The tea also contains notes of cinnamon and clove.
Turmeric Teas' two latte blends: Joy and Bliss are perfect for anyone looking to switch up their latte routine! They are all-natural, organic, dairy-free and added sugar free. Both blends contain Ashwagandha along with turmeric and black pepper. Ashwagandha is an ancient medicinal herb used for centuries as a tonic. It helps our body deal with stress.
Joy can be used to make a perfect Golden Milk latte with any milk of your choice! While Bliss makes the perfect hot chocolate with a kick thanks to cayenne.
Now is the perfect time to indulge in Turmeric Teas. Try them today!
FREE Immunity Guide
Here are a few more natural and easy changes to make that can help boost our immunity.
We've made a guide with easy ways to boost immunity in your daily choices. These infographics are perfect for printing, posting on your fridge or learning with children. It's a simple way to remember that healthy can be easy!
Download this FREE Learning Guide now! Select "Add to cart" or "Buy it now" for $0.00. No credit card card required to complete the transaction.