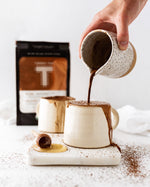 Where Mayan ritual meets Indian tradition - A ceremonious turmeric cacao elixir enriched to heal, energize and illuminate the body and mind.

 

 

It's here! Turmeric Teas' new signature latte blend: Bliss! Bliss is the most delicious chocolate latte blend you'll ever try! Bliss is crafted with the chocolatey richness of cacao, the heat of cayenne and a mild kick of ginger, gently sweetened with cinnamon and allspice. It is proudly made with all organic ingredients. 
Beyond the richness and heat of this blend, Bliss is packed with ingredients that to heal, energize and illuminate your body and mind. It's truly abundance in a cup!
Healing Benefits:
Known as the "Food of the Gods" in ancient Mayan culture, Cacao enhances mood and brain function, improves heart health and boosts immunity.

 

Allspice is an anti-inflammatory that boosts the immune system and aids in digestion.

 

Ashwagandha is an adaptogen that protects the body's critical functions.

 

Cinnamon helps regulate blood sugar.

 

Ginger strengthens the immune system and protects against seasonal illness.

 

Certified organic, all-natural tea that is free of preservatives, added colors and sweeteners.

 

Turmeric is a powerful anti-inflammatory with a range of healing benefits. Contains black pepper to optimizes the absorption of the medicinal compound, curcumin.
Bliss is free of added sugars, coloring and additives that are hidden in conventional tea and latte blends. 
Buy One, Feed One
Our latte mix combines the health benefits of organic cocoa and organic ashwagandha to make a delicious beverage for you and your family. But that's not all! With each purchase of our latte mix, you feed someone in need through our Buy One, Feed One program. A-LATTE of goodness comes with every cup!
You can finally enjoy a delicious latte beverage without the added guilt of sugar! Indulge in Bliss today!
How to Make a Cup of Bliss