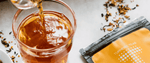 You might be wondering what sets Turmeric Teas apart from all the other teas out there. Not only are our products all organic, they are locally made in Canada, and each purchase helps feed someone in need.
The base of all of our teas is turmeric. Hence the name, Turmeric Teas. Turmeric's main bioactive component, curcumin, gives Turmeric its well-known property of being anti-inflammatory. Renowned as Nature's medicine, it was originally used in Ayurvedic medicine to combat inflammation in the body.
Many people like to consume turmeric by adding it to their dishes while cooking. But did you know that curcumin has a low bioavailability in our body? Bioavailability signifies how readily absorbed a substance is. In order to increase the bioavailability of curcumin, and to reap its benefits, Turmeric must be combined with Black Pepper. Black Pepper's main active molecule is piperine, which is known to enhance the absorption of curcumin by 2,000%.
In all of our tea blends, we use a mix of Turmeric and Black Pepper, in order to maximize the benefits of Turmeric. Our teas let you enjoy the benefits of Turmeric without the added mess of cutting Turmeric root in your kitchen or the inconvenience of taking Turmeric capsules.
Our line of teas are meant to heal from within. They include a tea for each occasion, in addition to two latte blends. We offer teas that are loose leaf, or in tea bags.
Our Summer tea blend is perfect for Summer, but can also be enjoyed any day of the year. It is a cooling tea with peppermint.The tea contains fennel seeds to support bone structure and digestion. Perfect for an after dinner drink.
Our Dawn tea blend is perfect for the morning. Whether you're an avid coffee drinker or you're just looking for a new tea option, this tea blend will definitely satisfy you. It's our only tea blend with caffeine, thanks to containing Assam tea, it also has notes of cinnamon and cardamon.
Our Dusk tea blend is perfect for those looking to unwind. It is made with lemongrass, which is known for reducing anxiety and allows for relaxation. It also contains ginger and fennel seeds. Both which help improve digestion.
Our Winter tea blend warms the body, hence why it's perfect for cold months. It is made with Turmeric's cousin: Ginger! Ginger is known to work hand in hand with Turmeric to reduce inflammation in our body. It is also helpful to treat nausea and sore throats. The tea also contains notes of cinnamon and clove.
Our two latte blends: Joy and Bliss are perfect for anyone looking to switch up their latte routine! They are Dairy-free, Gluten-free, and Vegan.Both blends contain Ashwagandha along with Turmeric and Black Pepper. Ashwagandha is an ancient medicinal herb. Used for centuries as a tonic, it helps our body deal with stress.
Joy can be used to make a perfect Golden Milk latte with any milk of your choice! While Bliss makes the perfect Mocha latte, and adds an extra kick thanks to cayenne.
Now is the perfect time to indulge in Turmeric Teas. Try them today!