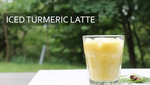 Happy First Day of Summer! Kick off the season with this refreshing organic Turmeric Latte over ice! 
Ingredients:
1 tsp JOY Latte Blend
1/2 cup hot water
1 tsp of maple syrup
 ice
1 cup almond milk 
Method:
Combine all ingredients in a mason jar. 
Shake and/or stir well to combine!
Pour over ice & enjoy!
Our JOY latte blend is the perfect combination of anti-inflamatory spices like ginger and turmeric, the powerful adaptogen ashwagandha, cinnamon to help regulate blood sugar and black pepper to improve the bioavailability of curcumin!
JOY latte blend is available to purchase online here.