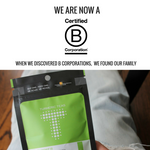 From the day we launched Good Food for Good / Turmeric Teas we were committed to building a sustainable and ethical business that gave back to the world.  There were very few models, so we found our own way.  Along that journey we discovered the B Lab®the not for profit that creates and assesses B Corps. Finally we had found what we were looking for, an enterprise who conducts business in the manner in which we do.
Once we made this connection we could not wait to complete the B Impact Assessment. We are committed to sustainability and working for environment and social benefit (while making a profit). Becoming a Certified B Corporation® means we met rigorous standards of social and environmental performance.  Maintaining our certification continually challenges us to assess how we are impacting the environment, our customers, our community and our employees. Every assessment becomes a bench mark for further improvements.
It's a commitment that forces us to look at the big picture with each and every decision that we make. For example we pursue projects that are environmentally sustainable and socially responsible. An example of this is our Buy One, Feed One model where every item purchased helps to feed a hungry child.  We are a very small team and our talented staff are dedicated to working with us.  Most importantly we are no longer alone.  We have the support of B Lab®  and more than 1000 other certified B Corps who help give us better ideas about running our business as a force for good. Being a Certified B Corporation® isn't just something we achieved, it is an integral and ongoing part of who we are.
About Good Food For Good
Good Food For Good owns and manages the Turmeric Teas brand. Good Food For Good is a Toronto based social food enterprise that wants to make it easy to eat well and do good. Our organic foods are free from allergens, preservatives and refined sugar. With every purchase of our foods, we donate money to feed a person in need.