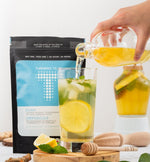 This soothing herbal iced tea is infused with the calming qualities of lemongrass and the anti-inflammatory benefits of turmeric. It's a great way to refresh and relax at the end of a meal, a day or a cycle.
Serves 1 | Ready in 10 mins
Ingredients:
Method:
Steep 2 teaspoons of DUSK loose leaf tea

 

in 1 cup hot water for 5 minutes (or 2 DUSK tea bags). Let tea chill in the fridge. 

Pour over a glass of ice and enjoy!
Optional
Add your sweetener of choice.