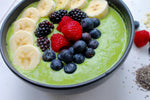 I am loving this smoothie bowl trend. Whoever started is a genius, I like spoonfuls of goodness loaded with smoothie and a ton of nuts and fruits that I garnish it with. 
This dairy free green smoothie is extremely refreshing, makes for a great breakfast and also a wonderful afternoon snack. The secret refreshing ingredient is mint. I used fresh mint and turmeric for this bowl but have made it several times using mint tea.
Wondering what mint is good for? Mint is a natural stimulant, it relieves from fatigue and depression. It is also great for digestion, the menthol and methyl salicylate in mint soothes stomach spasms and helps settle the gastrointestinal tract. I use a mint shower gel in the morning, it wakes me up in an instant. Imagine what eating a whole bowl of this smoothie bowl will do to you?
We also added Turmeric to this bowl, another powerhouse that is loaded with anti-inflammatory properties and antioxidants to boost immunity. 
Here we go with the recipe:
You need:
2 cups organic spinach leaves
1 organic Banana
1 organic Pear
1/4 inch piece of fresh turmeric or 1/4 tsp turmeric powder
1/4 cup hemp seeds
3 tbsp chia seeds
1/2 cup apple or pear juice
1 cup ice cubes
Sliced banana and mixed berries for garnish.
Method:
Add all the ingredients except the garnish in a high speed blender like Vitamix, blend till smooth. Pour in a bowl and garnish with your favourite fruits and vegetables.