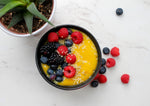 Breakfasts made brighter with this sunny Turmeric, mango smoothie bowl. Super easy recipe and loaded with not just delicious flavours but also anti-inflammatory properties of mango, turmeric and ginger. If you think it's difficult to eat healthy, you need to try this bowl! You will be converted for life.
Did you know pineapple, mango and papaya are the three main anti-inflammatory fruits that have proteolytic enzymes with anti-ulcerative and anti-microbial properties. These fruits help with digestion and breaking down other foods.
Turmeric and ginger have many health benefits and both are anti-inflammatory powerhouse and when combined with just a pinch of black pepper our bodies absorb 2000% more curcumin from Turmeric i.e a little bit of turmeric goes a long way when you combine it with black pepper.
 Try this turmeric recipe and your body will thank you.
Ingredients:
1 mango, peeled and cubed or frozen
1 banana, peeled and cubed
1/4 inch piece of turmeric, rinsed and chopped or grated
1/4 inch piece of ginger, rinsed and chopped or grated
1/2 cup Water or coconut water
1 pinch of black pepper
Hemp seeds, berries or other fruits for garnish
Method: 
Blend all ingredients except hemp seeds and berries in a high power blender till smooth
Pour in a bowl
Garnish with fruits and hemp seeds
Easy and delicious, this breakfast can be made and stored overnight too. You can add chia seeds and let it sit for 30 minutes to make it even more rich in omegas and protein.
This recipe can also be recreated with our WINTER blend tea. Just replace water, ginger and turmeric with 1tsp of Turmeric Teas Winter blend stepped in 1/2 cup of water. You could use your last steep (i usually do it cold brew in the fridge) of WINTER to make your smoothie the next day.