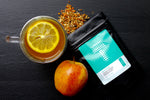 A warm and comforting drink for winter or days in other seasons that feel like winter. I adapted this recipe from Elizabeth Peyton-Jones website. Elizabeth Peyton-Jones is the author of Cook Yourself Young. She is a well known authority in the world of nutrition and loves Turmeric. I connected with her when she was on the book tour in Toronto. I love her book, it has amazing easy to follow recipes and a lot of information on how foods impact aging.
Ingredients:
1. 1 cup organic apple cider or juice
2. 1/2 cup water
3. 1.5 tsp WINTER - Organic Ginger Tea with Turmeric Root by Turmeric Teas
4. A slice of lemon
Method:
Mix all the ingredients together except the lemon slice in a sauce pan or a kettle. Bring it to a boil and them simmer for 5 minutes on medium heat.
Strain in a cup and enjoy with a slice of lemon.