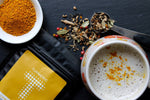 Starbucks is a morning ritual for many people. But their lattes are unfortunately loaded with sugar. And you're no better off ordering your latte "skinny" as they substitute the sugar with an even worse ingredient –artificial sweetener.
One thing about sugar, it's addicting. The more you consume of it, the more your body craves and needs it. So if you're wondering why Starbucks has become a necessity to your mornings, blame it on the sugar! A grande 16 oz Starbucks Chai Latte with 2% milk has a whopping 43 grams (10 tsp) of sugar. Yikes! Weight gain is just one the many reasons you should cut sugar out of your diet. Headaches, fatigue, aging, inflammation, and hormone disruptions – are just to name a few of the problems of a sugar overload diet will cause, not to mention more frightening disease like heart disease and diabetes.
So now you're thinking, "what am I going to replace my Starbucks chai latte with?!" Well luckily I have a great recipe below that is easy to make and is just as delicious to enjoy, but with health benefits of Curcumin (Active ingredient in Turmeric)! Dawn is a flavourful and comforting blend of assam tea with cinnamon, ginger, turmeric root, cardamom, and black and pink peppercorns to help you start off your morning, especially if you need a little bit of that caffeine kick. Below is a recipe to swap out your daily Starbucks Chai Latte drink for a healthier alternative. This latte recipe is made up of whole ingredients and is so simple to make it!
Recipe
Ingredients:
Homemade Almond Milk (makes 4 cups)
1 cup of raw almonds (unsalted)
4 cups of filtered water
1 tsp of vanilla extract
2 medjool dates
Instructions:
Soak almonds in plenty of water overnight. Drain and rinse well the next morning.
Place almonds, water, vanilla extract and medjool dates in a blender or food processor and blend for 60 seconds or until smooth.
Strain mixture over a large bowl through a cheese cloth or kitchen towel. Squeeze all the almond milk from the almond meal to extract as much almond milk as possible. (This recipe makes 4 cups of almond milk but for the Turmeric Chai Latte recipe you will only need 1 cup. You can keep the remaining almond milk in the fridge for up to 5 days and use it for smoothies, baking or breakfast porridge.)
2 tsp. of Dawn organic loose-leaf tea steeped and covered in 95 ̊C of 16 oz water for 5 minutes.
While tea is steeping, in a small sauce pan over medium heat, warm 1 cup of homemade almond milk until it starts to simmer, then immediately remove from heat.
Combine 2 cups of steeped Dawn organic loose-leaf tea and 1 cup of hot homemade almond milk and mix well. (Makes 2 servings, so share with a loved one)
Enjoy!
Aside from enjoying the delicious comforting flavours from this recipe and ditching the sugar, you will also be enjoying all the health benefits of turmeric. Turmeric is rich in antioxidants, anti-inflammatory and detoxifying properties. Homemade almond milk is also a great alternative to dairy if you're lactose intolerant/sensitive, vegan or simply removing dairy from your diet. So sit back and continue to enjoy your morning ritual with this wonderful latte.
Blog post by Alexandra Daugherty, Holistic Nutrionist