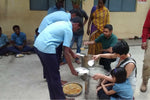 Making a Difference, One Cup at a Time
We are a social enterprise with simple beliefs: good food & good business. We aspire to make good food accessible to everyone, including those who cannot afford it. With every sale of our teas, we donate a meal to fight world hunger through our partners. 
Our Partners for Fighting World Hunger
Akshaya Patra Foundation provides underprivileged children in India with a healthy, balanced meal that they would otherwise have to work for. The meals are provided in schools and also serve as an incentive for children to continue their education. Education can significantly improve the quality of life of a family for generations to come. When the basic needs of a child, such as food are not met, education often becomes the last priority.
Although Sanjay is just about three and a half feet tall at 13 years of age, the ambitious boy wants to join the armed forces when he grows up. He is one of the highest scorers in his school and despite his family's economically unfortunate condition, he has a strong hold on his dreams and is working towards them. Sanjay's mother works as a domestic help and has to leave early every morning. Due to time constraints she cannot prepare food for him and his two sisters. There are days when the kids have to depend entirely on the food that is provided by Akshaya Patra in their school.
A highly intelligent and soft-spoken girl, Safina comes from a small coastal town that makes a living out of fishing. Her family has been into this occupation for many generations but Safina wants to break that tradition and become a lawyer. She aspires to move to the city to study and believes there is a different world for her beyond the bounds of her little village. Her mother rolls 'Beedis' (cigarettes) to support her father financially. According to her teacher, although she is the only child, her parents cannot afford even two meals on some days.
(Edit)