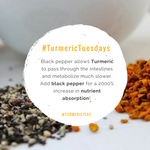 Have you caught up to speed with all the amazing health benefits turmeric has to offer? 
Turmeric(Curcumin) is an ancient ayurvedic healing herb, originated from Southern India. This yellow Indian spice belongs to the ginger family. It has great anti-inflammatory and antioxidant properties. Turmeric also helps improve digestion, boosts your immune system and lowers cholesterol! It is definitely an all-in-one type of herb! 
However, did you know you might not be fully benefiting from all the wonderful healing properties this herb has to offer? 
When eaten alone, turmeric actually has a low active effect on the body. This means the body doesn't absorb all the nutrients turmeric fully has to offer. Curcumin is the active ingredient in turmeric, which is responsible for all turmeric's healing effects. However, curcurmin is metabolized in the body, which doesn't allow for the body to fully absorb it. 
The good news is there actually is a beneficial way to consume this super spice so you can take advantage of all the healing and antioxidant properties. 
Black pepper! Yes, the ingredient that is arms reach in your kitchen enhances the bioavailability of turmeric. Piperine is the key chemical in black pepper that is responsible for increasing the nutrient absorption in turmeric by 2000%. Black pepper allows turmeric to pass through the intestines effectively and metabolize at a much slower rate, which enables better absorption in the body. This is why many curry powder dishes contain the powerful blend of both black pepper and turmeric. 
Other ways you can add more turmeric root and black pepper to your diet is by adding it to soups and stews, roasted vegetables and home made salad dressings. Good quality black pepper is best when you buy whole peppercorns and grind them yourself when needed. You can also easily sneak in a pinch of turmeric in scrambled eggs or tofu scramble in case if you have any picky eaters in the house. Turmeric gives food rich, warm flavour and a beautiful colour, and black pepper lends a slight bold flavour. 
Want an even easier (and oh so delicious) way to reap all the benefits turmeric has to offer? Turmeric Teas is a local Toronto tea company with several signature blends of organic loose-leaf teas with the powerful healing herb, turmeric root. They come in four wonderful flavours Dawn, Dusk, Winter and Summer, and can be enjoyed throughout the day. Dawn is a flavourful and comforting blend of assam tea with cinnamon, ginger, turmeric root, cardamom, and black and pink peppercorns to help you start off your morning, especially if you need a little bit of that caffeine kick. Dusk offers a slight citrus flavour from lemon grass, combined with ginger, fennel, turmeric root and black pink pepper corns. Winter is best enjoyed during the fall and winter seasons due to it's warming properties of ginger, cinnamon , turmeric root, liquorice root and black pepper. Summer is fun, refreshing blend of peppermint, fennel, turmeric root and black pepper to help aid in digestion or simply to help you cool off on a hot summer day. 
Turmeric Teas makes it even easier with the convenience of being able to ship anywhere in Canada and United States, straight to your doorstep. 
So enjoy the wonderful collection of organic loose-leaf teas Turmeric Teas has to offer and reap all the endless health benefits turmeric root and black pepper have to offer!
Blog post by Alexandra Daugherty, Holistic Nutritionist