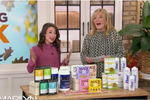 So thrilled about our feature on Marilyn Denis Show. Grateful for Miranda Malisani, who chose to share our brand giving story. Miranda's store Eat it Forward encourages people to think about making giving part of everyday life.
Miranda is committed to donating 5% of the profits from her store Eat it Forward to Food Banks Canada.
October is the month of giving, why wait till October to think about giving? People visit food banks throughout the year. On average, food banks help more than 850,000 Canadians every month. These are the facts that made us choose Food Banks Canada as our giving partner for Turmeric Teas.
Every time you buy Turmeric Teas for yourself or your friends, you know you are feeding a hungry Canadian in need. Since our partnership started with food banks we have fed over 3000 Canadians in need with your help and support. It is approximately 4% of our revenues that are used in helping people in need.