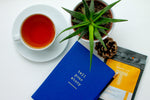 Today is the last day of the 365 day adventure called 2016. Even though this year like every other year had its ups and downs I wanted to take time to pen down all the things I am grateful for in 2016.  Celebrate the wins and acknowledge the lessons learned in this journey called life.
The list was much longer and then I had to spend time reflecting and editing to keep it to 10 (just trying to stay true to the title). Here it goes, 10 things I am grateful for that happened in 2016:

1. Good Food For Good hitting it's first landmark! Gaining distribution in our very first chain of stores.

2. Good Food For Good stepping out of Toronto, now you can find it in Ottawa, Perth, Sudbury, Halliburton, Wasaga, Seaforth, Dundas, Stratford and more. More places than what I have visited in Ontario. 

3. Turmeric Teas crossing the pacific and reaching Philippines! 

4. My support system ( i.e My family) that allows me to work on what I truly enjoy. My partner who is willing to go that extra mile and more with me in this adventure and my Dad who came all the way from India just to help me during the busiest time.

5. New friends that I have made in this new journey and old friends that have continued to love and support me through this adventure.

6. Lessons I have learned through my mistakes. I now know who to trust. I know not to get into any partnership without a legal documentation and very important exit clause.
7. Our new partnership with Food Banks Canada. Every bag of Turmeric teas sold now Feeds a hungry Canadian

8. The opportunity to be able to help people in need through our partners The Akshaya Patra Foundation, Food Banks Canada and Building Roots

9. Joy that our food brings in lives of many Canadians. All the emails, posts and notes I receive make my day.

10. The opportunity to work alongside great team to make our good food dream a reality.

I am ready for 2017 and looking forward to making it the best year so far personally and professionally. These are the highlights from my story of 2016. Would love to hear yours!