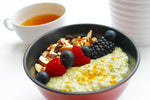 What's better than one super food for breakfast? You got it! Many superfoods for breakfast in one beautiful bowl. Several years ago when I first tried Chia I didn't really like it, I realized later after talking to several Chia enthusiasts that I was not soaking my Chia long enough for it to absorb all the moisture and flavor. If you love tapioca, you will love Chia for sure.
 Chia seeds have become a highly sought-after and coveted superfood, and it is no surprise why. The super-seed is extremely high in omega-3 fatty acids (aka the "good fats"). Foods high in omega-3 promote heart & joint health as well as help maintain brain health and memory. Chia has a ton of fiber which helps keep you full longer – especially since, when combined with liquid, they expand and form a gel-like consistency (as seen here in our Golden Milk Chia Pudding!). In addition to the above, chia seeds are an excellent source of phosphorus, protein, iron, calcium & manganese.
 This Golden Milk Chia Pudding is a great way to capture all of the above benefits of chia seed, in addition to those of our favorite super-spice turmeric! Enjoy this chia pudding in the morning for a satisfying, and energy-rich breakfast, or as an afternoon snack for a little extra fuel to get you through till dinner. It also keeps well so feel free to make the night before indulging!
Golden Milk Chia Pudding
Warming, superfood loaded breakfast or snack. Loaded with superfoods like Chia, Turmeric, ginger and berries.
 Serves 2
 Ingredients:
3/4 cup cashew milk ( I use home made, it takes only 5 minutes to make. Add ½ cup raw cashews and 1 cup water to a high power blender like Vitamix and blend it is smooth like milk (2-3 minutes). Add water based on your personal preference.
4 Tbsp Organic  chia seeds

1 Tsp Organic Winter blend
½ cup water
Raw Honey or maple syrup to sweeten
Organic Berries and dry nuts to garnish
Method:
Bring ½ cup water to boil with 1 tsp of WINTER blend
Let it stand for 5 minutes (for stronger flavor boil tea in water for 2 minutes)
Strain the tea in a bowl and add chia and cashew milk.
Stir well and refrigerate over night or at least for 2 hours
Garnish with your favorite berries and/or nuts. I love adding almonds and raisins.