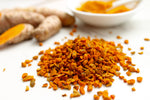 Dry skin, acne, wrinkles...we'd all love to have perfectly radiant skin. The challenge of maintaining a healthy glow can prove to be especially tough once winter hits.
That's why we're sharing our favourite--and proven--ways to obtain and maintain a fresh face naturally, all year long.
Drink More Water
Keeping yourself hydrated is not only great for your digestive system, but it is also key for the proper function of skin cells. If our bodies are dehydrated, we're more susceptible to dry, wrinkled skin. The is because water helps oxygenate the blood, eliminate toxins and helps the body to absorb nutrients, making sure all organs in the body are working optimally, including the skin.
Make sure to drink a full glass of water first thing in the morning, and a minimum of 8 glasses of water per day to get your body back on track.
Eat More Greens
Ahh greens. If you don't eat them regularly it can be tough to get them into your diet. So why are they so good for your skin anyway?
In addition to being water-rich, leafy greens are also jam-packed with nutrients that help your body work the way it's meant to. Most importantly, the vitamin E found in greens such as spinach and broccoli, helps to fight off free radicals and preventing acne as well as sun damage to the skin.
If getting greens into your meals is tricky, we have some great recipes on our site, including this mouthwatering broccolini stir-fry
Sip Warm Drinks
In addition to staying hydrated by drinking water and eating a nutrient-rich, plant-abundant diet, the energizing and cleansing effects of certain warm beverages are a great way to start and end your day. It's been proven that a warm beverage such as hot lemon water or herbal tea will help stimulate the digestive tract, which means your body is flushing out toxins, helping reduce the appearance of blemishes and age spots alike.
We recommend starting the day with a cleansing herbal tea, such as our Dawn Organic Chai Tea with Turmeric to get your system circulating.
At night, warm elixir such as our Joy Organic Turmeric Latte Blend will get your cells renewing and repairing as you sleep.
Regular Exercise
If you haven't noticed already, making sure your body is functioning at its best is just as important to your digestive system and brain function as it is to your skin.
The main component of exercise that keeps your skin looking fresh is circulation. This means everything you can do to oxygenate the bloodstream and promote circulation--from gentle yoga to a more rigorous routine--will ensure your skin is pure and glowing.
Turmeric Face Masks
You may have heard or read about the many amazing health benefits of turmeric, including cancer prevention, liver detox and many other anti-inflammatory properties. But did you know turmeric is great for the skin?
Aside from the naturally beneficial outer-glow you'll get from including this detoxifying root in your diet, turmeric is also an effective topical agent for healthy, smoother skin.
In India, turmeric (haldi) has been used ceremoniously to purify the skin as part of traditional Indian weddings.
The ceremony, Haldi Ubtan, involves applying a paste made using turmeric and other ingredients on the face and body to both the bride and groom, giving them a healthy, fresh glow for their big day.
Not only does turmeric carry antibacterial agents to purify the skin, reducing acne scarring and redness caused by rosacea, but the curcumin component of turmeric will also inhibit the protein and enzymes that create the darkness of age spots, evening out skin tone. It also encourages new cell growth and prevents free radicals, thus ensuring cells are protected from potential damage. As turmeric is more gentle to the skin than many drug store facial cleansers, it allows your skin to heal itself naturally without having to defend against harsh chemicals.
This simple way to make a turmeric face mask will cleanse your skin gently, leaving you feeling refreshed and renewed:
1 TBSP chickpea flour
1/2 TSP turmeric
1 TSP fresh lemon or lime juice
2 TSP plain yogurt
Mix all ingredients together and apply to face. Leave on for 15 minutes and rinse off using warm water.
For a gentle and effective face scrub, you can also try this turmeric and coffee scrub and mask