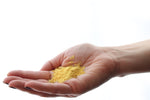 Turmeric, as you must have noticed by now is my favourite ingredient. It is so good for so many things. In India it is not just used in food but also as topical medicine and skincare. You find face creams and soaps with Turmeric all around India.
Just before the weddings, there is a whole ceremony called "Haldi" (it means Turmeric in hindi) where bride and grooms are treated with turmeric masks so they have glowing skin on their special day. I just found this image on google to show you how it looks.
Traditionally this face mask is just chickpea flour, turmeric and yogurt. I have been using a slight version of this mask as a face scrub now for over a year and my skin has been feeling great.The only times I use a facial cleanser is to remove makeup and if you know me, than you know that is once in a while. I wanted to share this simple Turmeric and coffee face scrub with you and hope it helps your skin the way it has helped mine.
You need:
1/2 cup Chickpea flour
1 Tsp Turmeric powder
1 Tsp ground Coffee
1 Tsp Baking soda
Mix all the ingredients in a jar, shake well and keep it in your bathroom.
How to apply:
Take about a 1 Tsp of powdered scrub in the palm of your hand, add a few drops of your favourite oil (I use olive) and about 1/2 tsp water to make a nice paste.
Apply it on wet face and scrub generously for a few minutes. Leave it on if you are not in a rush till it dries, if you are rushing rinse after scrubbing.
I use it every other day and moisturize using an organic Rosehip oil.