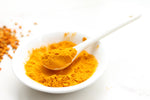 7 Ways To Add Turmeric To Your Diet
Turmeric – you've seen it fresh in your local supermarket, heard all about it through Dr. Oz, read all about it on my latest blog posts or you simply heard it through your health nut friend. You're finally inspired to start using this golden spice in your kitchen! But where do you start?
Don't stress! I've got you covered. Turmeric is a versatile spice, so you can try it in everything. And I mean everything! Below I share some ways you can add some turmeric to your life.
1) Drink Turmeric Tea- Turmeric Teas is a local Toronto tea company with the mission to make it easier to add turmeric to your daily regimen, through drinking any one their signature blends of organic loose-leaf tea, Dawn, Dusk, Winter and Summer. Turmeric Teas signature blends all contain turmeric root, along with black pepper (to help enhance turmeric's bio-availability and absorption by 2000%). Although Turmeric Teas is a social food enterprise  (every purchase of Turmeric Teas feeds a hungry child) based in Toronto, Canada, shipping is also available to our friends in the USA.
 1 teaspoon of Turmeric Tea per cup of water and steep, covered, for 3-5 minutes and presto you have an incredible immune boosting tea with hundred more health benefits to enjoy!
 2) Make Turmeric Chai Latte – Ditch the 43 grams of sugar in a grande 16 oz Starbucks Chai Latte and make a healthier alternative, Turmeric Chai Latte. My recipe includes Turmeric Teas signature blend of organic loose-leaf tea, Dawn. You won't be missing out on the chai latte flavours from Starbucks because Dawn has a flavourful and comforting blend of assam tea with cinnamon, ginger, turmeric root, cardamom, and black and pink peppercorns. Dawn can help start off your morning, especially if you need a little bit of that caffeine kick after binge-watching Netflix the night before. Check out the recipe here.
 3) Breakfast – Add an extra bit of color to your scrambled eggs/tofu, egg frittata or breakfast hash. Sprinkle ground turmeric or simply grate in a bit of fresh turmeric to your morning breakfast. Plus adding turmeric to your next egg dish will have even the pickiest eaters fooled.
 4) Use it in soup/stew – Add turmeric to mirepoix (onion, carrot, celery) to give a mild flavour to any of your soups or stews recipes, along side with just a pop of color! Your favorite chicken soup recipe will be much more warming!
 5) Add to roasted vegetables – Toss your next vegetable dish with turmeric and black pepper. Turmeric gives food rich, warm flavour and a beautiful colour, and black pepper lends a slight bold flavour to any roasted vegetables dish.
 6) Blend it into smoothie – Smoothies are an excellent way to nourish your body with vitamins and minerals. But take your smoothies to the next nutrient dense level by using any one of Turmeric Teas signature blends of organic loose-leaf tea as a liquid base. Click here to check out my Turmeric, Mint and Pineapple Smoothie recipe.
 7) Add it to rice – Not a master chef in the kitchen? Don't fear. You can still add turmeric to your simple side dish, rice! You can even wow your next guests with an easy grain dish. Bring your next rice, pilaf or quinoa dish to life by adding a splash of turmeric!
 A diet rich in turmeric comes with a long list of powerful health benefits such as, anti-inflammatory properties for alleviating joint pain and arthritis, blood sugar control and lower cholesterol (just to name a few). So next time you come across fresh turmeric at your local grocery store or at the farmer's market, don't be intimidated by this golden spice.
Alexandra Daugherty, CNP • Holistic Nutritionist