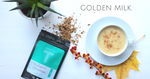 With the changing season and big drop in temperature, now is the perfect time to add a delicious warm beverage to your diet. Golden Milk is a traditional Ayurvedic warming drink that helps fight colds and build immunity for overall health and wellness. This bright sunny beverage has a combination of warming spices such as cinnamon, cloves, ginger and turmeric.
Growing up in India, I remember my mom giving me Turmeric Milk when I was either injured or sick. She would simply mix a teaspoon of turmeric powder in ¼ cup of warm milk and hand it to me. It was like a shot or elixir that soothed and comforted me. That is just my experience, in my home, and I am sure there are people who have also enjoyed this delicious blend growing up. I rediscovered this delicious drink a few years ago and it has since been my favourite go to blend. Indian food is so rich in turmeric that in an average day people get enough of the anti-inflammatory properties of this golden root.
Golden Milk is an easy and delicious way to enjoy the many benefits of turmeric. For me it acts as a great drink before bed, it is like a dessert with benefits! Drinking Golden Milk has tons of benefits, I have listed a few below:
Boosts immunity by improving liver function
Relieves cold and cough symptoms
Decreases cholesterol
Purifies the blood
Prevents internal blood clotting
Improves the skin
Improves circulation throughout the body
Detoxifies the liver
Make your Golden Milk in 5 minutes using Turmeric Teas Organic Winter blend. Winter blend has all the ingredients needed to make a delicious cup of warming Turmeric Tea. It contains organic ginger, organic turmeric, organic cinnamon, organic black pepper and organic cloves. Did you know consuming Turmeric with black pepper increases the bioavailability of Curcumin (active compound in Turmeric) by 2000%? So, here you go. Make this easy recipe in minutes and enjoy the benefits of Turmeric one sip at a time!
Serves 2
2 Tsp Turmeric Teas Winter Blend
2 cups of Water
¼ cup milk of your choice (I prefer cashew milk)
3 Tsp coconut sugar or honey – optional (to make it a dessert with benefits!)
Method
Boil 2 cups of water and Turmeric Teas Winter Blend for about 4 minutes or steep Tea in hot water.
Add milk & sugar.
Strain and serve.
Enjoy!