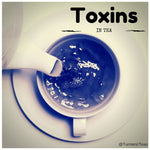 Pesticides are toxic substances that are widely used on our fruits and vegetables in order to kill off any "pests". These pests include insects, plants and fungi. Pesticides that are used in conventional and factory farming are synthetically manufactured and hazardous to our health. They are sprayed not only on crops, but as well as public and school parks. However, fruits and vegetables aren't the only foods that you should be worried about being contaminated with pesticides and toxins.
Unfortunately, many of our favorite and popular tea brands contain high levels of pesticides. Why should we be concerned about pesticides in tea? Because they pose health dangers!  In 2014, CBC tested 10 popular brands of green and black tea for pesticides. The results concluded, 9 brands contained pesticide levels and half of these exceed the Canadian standards. They also found that 8 of the 10 brands contained multiple pesticides with one brand containing 22 different pesticides. The brands tested in this study were Lipton, Red Rose, Tetley, Twining's, No Name, Uncle Lee's Legends of China, King Cole and Signal. However, Red Rose was the only tea brand that came back pesticide free. 
As acknowledged by U.S. and international government agencies, different pesticides have been linked to a variety of health problems, including: brain and nervous system toxicity, cancer, hormone disruption, skin, and eye and lung irritation. The type of pesticides, length of exposure and the amount of pesticides you were exposed to are all factors that can greatly affect your health. It may take several years of repeated exposures of pesticides, even if it's in small doses, to accumulate and build up in the body. With pesticides lurking in our foods, teas, public parks, work places, in the air, it's easy to see how we are repeatedly exposed to toxins and how toxicity can rapidly build up in our bodies.
I do not want to discourage you from drinking tea. Tea is known for its amazing health benefits and anti-oxidant properties. However, it's important to choose an organic certified brand of tea. Many tea companies mask the taste of their low quality teas with additives. It is also important to check for the ingredients label on teas for any added sugar, artificial flavour and colour. Another great way to avoid pesticides is by using natural cleaning products in your home and buy your produce and foods locally. Get to know a few farmers and don't be afraid to ask where your food is coming from.
Turmeric Teas is a Toronto tea company with several signature blends of organic loose-leaf teas with the powerful healing benefits of turmeric root. It is a local brand you can trust with natural ingredients and amazing health properties. Turmeric Teas is rich in antioxidants, helps improve digestion, boosts your immune system and lowers cholesterol. They come in four wonderful flavours, Dawn, Dusk, Winter and Summer, and can be enjoyed throughout the day. Don't live in Toronto? Not to worry, Turmeric Teas ship anywhere in Canada and United States. Not just that, every time you buy Turmeric Teas you help feed a person in need.
 Alexandra Daugherty, CNP • Holistic Nutritionist