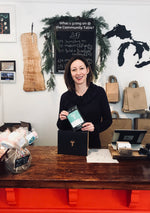 In October, I had the pleasure to meet Sarah Gratta, and visit her beautiful store in Unionville. Please do yourself a favour and checkout the Too Good General Store - it really is just that. Too Good! Sarah's done a masterful job curating the most beautiful, Canadian-made, thoughtful gifts of high quality for everyone on your list, regardless of age or gender. 
Now that Turmeric Teas are sold in her shop, I've had several opportunities to chat with Sarah during my deliveries and get to hear a bit more about the idea behind Too Good General Store... below are some snippets of our conversations! 
What can shoppers expect from The Too Good General Store?
A modern twist on the General Store that connects Canadian artisans who create small batch goods with creative and thoughtful consumers. Products are of the highest quality, making them a joy to give (and receive!).
Can you elaborate on the Community Table? And the idea behind it?
The idea behind the Community Table, was to create the ideal place for workshops, food tastings, and also have it available to rent out for book clubs and other meetings. I strive to create a cozy, welcoming location to gather, shop, and learn.
What's in store for 2018?
As we look towards the second half of our first year the plan is to learn from the first six months and to ensure that we continue to find unique goods from across Canada. We want to continue to surprise and delight our customers with something new to discover each time they walk through the door. It's also our goal to make sure that we have new workshops to rotate into our calendar bringing fun and interesting opportunities to learn new skills to our Community Table. 
----------------------------------------------
Too Good General Store carries the complete line of Turmeric Teas as well as our beautiful Turmeric Teas Gift Boxes!