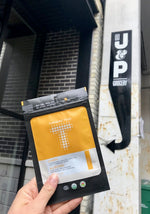 It was wonderful meeting Sarah last week while visiting their charming little store in downtown, Kitchener. If you're ever in the area, and are looking for some quick staple food products or fresh grocery on your way home, do try these guys out. Sarah Pepper and her husband Johnny Kent opened this store with a focus on one-stop-shop grocery needs and a beautiful aesthetic environment that matches the future of downtown shopping. Plus, they love supporting local organic brands like our Turmeric Teas!
The other day while out making deliveries, I got an opportunity to chat with Sarah about how she got into this business of grocery and what makes J&P so special. Here are few excerpts from our conversation:
1) What inspired you and Johnny to open J&P?
We live in the downtown core of our city and we saw a real need for a full service, full selection food store. There were a handful of specialty grocers but no place where you could grab it all-milk, eggs, some produce and some pantry staples like chickpeas or ketchup :)  we also wanted to feature local makers and producers, of which there are an abundance in our area-many of them are our close friends. 
2) What's your favourite part about being an entrepreneur?
My favourite part about being an entrepreneur is being immersed in the excitement and commitment that you must give to your business and the daily 'wins' that you experience. Also, Johnny and I also love working together and depending on one another. We are great supports for one another and couldn't do it without the other. 
3) Tell us a little bit about your plans for 2018?
We have many exciting plans for 2018 including expanding our meat and seafood departments and partnering with other awesome small business'. We are launching a larger line of house-made products and prepared meals for the busy people of DTK. We also look forward to the rejuvenation of our street in the coming years. 
We also got Erene who works at J&P Grocery Store to share her thoughts about Turmeric Teas and here's what she says -
You can find the complete line of Turmeric Teas at J&P Grocery, 
8 Queen St N, Kitchener, ON N2H 2G8.
For a complete list of stores that carry Turmeric Teas check out our Store Locator!