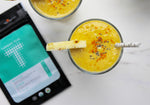 Looking for a refreshing new smoothie recipe to add to the mix? Try this one out today. It is so refreshing, energizing, filling & nutritious. Bound to be a favourite "go-to" in no time. The taste of pineapple reminds me of a tropical vacation, so sipping away on this smoothie takes my mind off of the day-to-day tasks and whisks me into a relaxed state. 
And now that the weather is (finally) starting to warm-up, what better time to try this refreshing, cooling beverage? Not to mention it is packed with vitamins, protein, omega-3s, and of course, due to our favourite super spice turmeric - powerful antioxidant & anti-inflammatory benefits. 
Give it a whirl today! To make enough for two smoothies, all you need is the following: 
1/2 tsp of turmeric powder
2 bananas
2 1/2 pinapple
1 tbsp chia
1 tbsp hemp
1 cup of cold water
**Need a little immunity boost? Steep 1 cup of our signature Winter blend! Let tea cool and add instead of the cold water, to reap the immunity boosting benefits of ginger!
Blend all of the above together until smooth, or to the consistency of your preference! Top it off with some additional seeds, turmeric powder, or your favourite organic berries.

Now sit back, and enjoy!