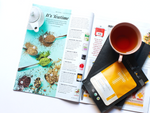 Super thrilled about being featured in the Clean Eating Magazine's October Issue. DAWN - Chai tea blend with Turmeric was featured in the best natural teas.
I personally love the magazine, they are really helping  people make healthier choices. 
Check out the magazine, read the article here. We are so grateful that Clean Eating magazine chose us to be part of their feature.