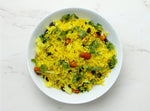 A simple way to add Turmeric to any meal is by brightening your side dish with this delicious golden spice. I have this 5 minute recipe to brighten your rice and add this super spice to your any meal.
I make this golden rice even more nutritious by adding almonds, sunflower seeds and raisins. You can even add other super foods like pumpkin seeds, hemp seeds, pecans or even walnuts.
Coconut oil is not just delicious but is loaded with all the good fats that our bodies need. Coconut oil gives this delicious rice a silky coconut flavour.
Turmeric the golden spice is loaded with anti-inflammatory properties and is known to cure and prevent many diseases. I add just a pinch of black pepper because bioavailability of "curcumin"( the active compound in Turmeric with anti-inflammatory properties) goes up by 2000% when combined with "peprin"( active compound in black pepper).
Ingredients:
 2 cups of cooked Basmati Rice
2 Tbsp of organic coconut oil
1 Tsp of salt
1/2 Tsp Turmeric Powder
1/2 cup Raisins
1/2 cup Almonds 
1/2 cup Sunflower seeds
Pinch of black pepper
1/4 cup chopped cilantro
Method:
In a heavy bottom shallow pan warm the coconut oil. 
Cook turmeric in oil for 5 seconds and then add the rice, salt and black pepper.
Stir continuously to allow rice to absorb all the oil and turmeric.
When rice is well coated and warm add the nuts and garnish with cilantro.
Turmeric is simple to add in meals and it is even simpler to have it in tea with Turmeric Teas.