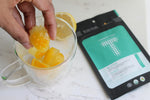 I love my mornings, primarily because of the little routines I've adopted that help me settle into the new day feeling awake, energized and ready to tackle my day's to-dos! One of these routines is that start every morning with a glass of warm lemon water. Since I started doing this, I've grown to really enjoy my lemon water, and having fresh lemons in the house has become a necessity. But besides it being really enjoyable and delicious, warm lemon water has amazing health benefits. The main ones are as follows:
Aids in digestion - helps the body flush out unwanted toxins
Cleanses your system - is a natural diuretic
Balances pH - lemons are a highly alkalizing
Promotes healing - lemons are very high in vitamin C
Aids in weight loss - lemons are high in pectin fiber, said to help fight hunger cravings!
Freshens breath!
Normally I cut a lemon in 2, squeeze one half into a tall glass, fill the glass halfway with cool water and then top it off with boiled water. When I am not in a rush this method of freshly squeezing lemons works. However, as of late, I am searching for any way to save time in the morning. I don't want to sacrifice my lemon water routine so I have included below an easy, time-saving, method of ensuring, even on the busiest days, you too can enjoy warm lemon water in the morning. And better yet! With this method, turmeric & ginger are also thrown into the lemon water mix using our delicious Winter (ginger) tea!
What you need:
2 tsp of Winter Tea
8oz of hot water
2 lemons
Method:
Steep 2tsp of Winter tea in 8oz of hot water 
Let steep for 5 mins
Remove tea from hot water and let cool
Squeeze ALL the juice from the 2 lemons
Combine and mix the cooled tea with lemon juice
Carefully pour the tea & lemon juice mixture into ice cube tray(s) and place in freezer
Once frozen, and ready to use, pop 2-3 ice cubes in a mug (or to your preferred taste), and top off with hot water. 
Sit back, and enjoy your easy turmeric lemon water!
For convenient storage, and to free up your ice cube tray, keep the frozen cubes in a freezer bag and store in freezer.
Following this recipe once a week will ensure you always have on hand some ready-to-melt cubes of lemon juice, turmeric & ginger. Sure to make your mornings run just a little smoother :)