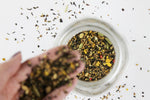 Learn here how to easily cold brew loose leaf Turmeric Teas! The ideal way to enjoy our delicious blends throughout the warmer months. In particular I love our Dawn blend cold brewed (shown here). The cardamom of this chai blend is so flavourful after a long steep! Additionally I love the energizing effect of the Assam black tea leaves, great to sip on throughout the afternoon for a little "pick-me-up"!
Despite what many people think, cold brew is super easy, the main requirement is patience!
Step 1: Combine 5tsp of loose leaf tea with 1L of cold water.
Step 2: Tightly close jar, shake, and leave in the fridge for 6+ hours. (Or leave overnight to enjoy the next day)
6 hours later.... the tea will be a nice dark colour .
Step 3: Strain the steeped tea using a mesh strainer to separate the tea leaves from the liquid.  
Step 4: Now enjoy your 1L of delicious cold brew tea as is, or over some ice!