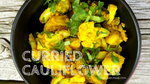 This is another delicious way to add turmeric to your diet. This is traditionally known as "Aloo Gobhi". This is the way my Mom always made it and after leaving home I tried making it several different ways but nothing beats the flavour that you grew up eating. The comfort, the nostalgia and the satisfaction is priceless.
Ingredients:
2 tbsp Mustard Oil (you can use coconut oil too) 200 g (2 cups) Cauliflower florets 
200 g (2 cups) Potato peeled and cubed (almost the same size as cauliflower)
 6 g (2 tsp) Ginger julienne 
6 g (2 tsp) Serrano pepper chopped 
1/2 tsp salt 
1 tsp turmeric 
pinch Asafoetida 
2 tbsp Coriander powder 
2 tsp garam masala 
2 tbsp Cilantro chopped (garnish) 
Method:
In a wok add the mustard oil and allow it to heat. Once oil is hot add Asafoetida and turmeric, add potatoes and cauliflower right after and coat the vegetables with oil mixture. 
Stir fry the vegetables for 5 minutes on high heat till they get some brown spots. 
Add salt, ginger and Serrano pepper to the wok, and mix with vegetables. 
Add 3 tbsp water, lower the heat and cook for 10 minutes (stir every 5 minutes) 
By this time cauliflower and potatoes should be cooked, if not cover and cook for another 5 minutes. 
Add rest of the spices and stir fry on medium heat for 1 minute 
Garnish with fresh cilantro and serve! If you like it spicier add 1/2 tsp cayenne pepper.