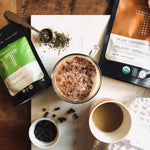 A satisfying blend of cocoa and peppermint for a warm and fortifying cup of Turmeric Mint Hot Cocoa. 
This recipe come to be as Justin, our Turmeric Teas barista, was playing and mixing our teas and lattes during a trade show. He took a little bit of our peppermint tea with a little bit of our turmeric cacao latte, swirled the cup a couple times, and behold—a delicious recipe was born! 
It's like a Starbuck's Peppermint Hot Chocolate, but without the sugar, the high amount of calories and the hit to your wallet. This DELICIOUS Turmeric Mint Hot Cocoa has become an office favourite!
Also, using our Turmeric Teas tea and latte blend gives this drink a secret hint of turmeric. So this cup has the anti-inflammatory benefits are turmeric without the taste! Let's start sipping!
Learn more about the health benefits of turmeric here.
Ingredients:
Oatmilk
Optional: cocoa nibs
Instructions:
(For 2 cups)
Steep 1 tsp. of Turmeric Teas Summer Loose Leaf with hot water (95 ̊C / 203

 ̊F). Steep for 

5 minutes. View detailed steeping instruction & tip.
Fill cup halfway with steeped tea and add 1/2 tsp. Turmeric Teas Bliss Latte Blend. Mix well with whisk.
In a separate container, froth 1/2 cup of oatmilk with a milk frother.
Pour frothed oatmilk into the cup of steeped tea.
Sprinkle with cocoa nibs.