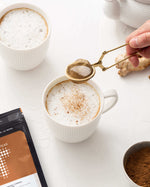 A cozy cup of hot chocolate with a spicy kick of ginger and turmeric.You can never go wrong with a cup of hot chocolate; but this recipe adds a kick to this classic. It's a spicy hot chocolate for adults, that kids could enjoy too! There is no added sugar in the Turmeric Teas blends used in this recipe, serving you a healthier alternative to sugar laden hot chocolate. The best part—enjoy the healing benefits of turmeric with every sip!
Serves 2 | Ready in 10 mins
Ingredients:
Oatmilk
Optional: cocoa nibs
Method:
Steep 1 tsp. of Winter tea with hot water (95 ̊C / 203 ̊F). Steep for 5 minutes. View detailed steeping instruction & tip.
Fill cup halfway with steeped tea and add 1/2 tsp. Bliss latte blend. Mix well with whisk or use a blender for smoother results.
In a separate container, froth 1/2 cup of oatmilk with a milk frother.
Pour frothed oatmilk into the cup of steeped tea.
Sprinkle with cocoa nibs.
Repeat for second cup!