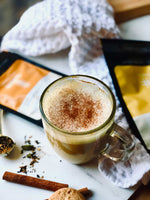 A chai latte with the harmony of ginger and turmeric for a delicious and nutritious cup.
How does a warm cup of Turmeric Chai Latte sound right now? Cozy right? In this blog, we'll teach you how to make a delicious cup in just 4 steps!
Our Turmeric Teas tea and latte blends also give this drink a secret hint of turmeric. So this cup has the anti-inflammatory benefits are turmeric without the taste!  
Learn more about the health benefits of turmeric here.
Ingredients:
Oatmilk
Optional: cinnamon powder
Instructions:
(For 2 cups)
Steep 1 tsp. of Turmeric Teas Dawn Loose Leaf with hot water (95 ̊C / 203

 ̊F). Steep for 

5 minutes. View detailed steeping instruction & tip.
In a blender, pour in 1/2 cup of steeped tea and add 1/4 tsp. Turmeric Teas Joy Latte powder. Blend and pour in a cup.
In a separate container, froth 1/2 cup of oatmilk with a milk frother.
Pour frothed oatmilk into the cup and finish  with cinnamon powder.
Repeat for second cup!