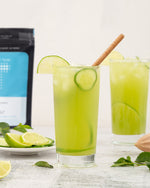 A wave of refreshment in a cup. This Lemongrass Cucumber Iced Tea recipe is a sure crowd pleasure! Best enjoyed in the summer or anytime you need a cooling refresher. This recipe is simple to make and has no added sugar. The best part—enjoy the healing benefits of turmeric with every sip!
Serves 2 | Ready in 10 mins
Ingredients:
Method:
Steep and chill 2 tsp. Dusk Tea in 1 cup water for 5 minutes (or 2 tea bags).

Blend 1 cucumber and strain for cucumber juice.

Mix the cucumber juice with Dusk Tea. Squeeze half a lime and mix.

Add ice, slices of cucumber and lime to garnish.
Optional
Add your sweetener of choice.