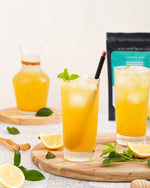 A lemonade that heals you from within. This Turmeric Ginger Lemonade recipe is infused with heat of ginger and the anti-inflammatory benefits of turmeric! It's a great alternative to sugar laden traditional lemonade, and instead strengthens immunity. Enjoy throughout the day! You just need 3 ingredients. 
Serves 2 | Ready in 8 mins
Ingredients:
Method:
Steep and chill 2 tsp. Winter Tea in 1 cup water for 5 minutes (or 2 tea bags).

Mix 1 cup tea with 1 cup natural lemonade.

Pour over 2 glasses of ice.
Optional
Add your sweetener of choice.