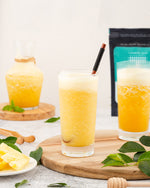 Aloha wellness lovers! This Ginger Pineapple Slush recipe is a simple tropical escape! Enjoy the freshness of pineapple and the spice of ginger for a wholesome tropical drink. No added sugar, no artificial flavors; just 2 natural ingredients. The best part—enjoy the healing benefits of turmeric with every sip!
Serves 2 | Ready in 10 mins
Ingredients:
Fresh or Frozen Pineapple

Ice
Method:
Steep and chill 2 tsp. Winter Tea in 1 cup water for 5 minutes (or 2 tea bags).
In a blender add 1 cup of pineapple, 1 cup Winter Tea and ice. Blend till you get a slush consistency.

Pour into 2 glasses. Garnish with slices of pineapple.