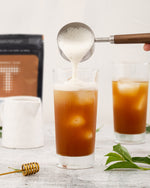 A classic cafe drink with a healthy twist. This delicious Chocolate Peppermint Iced Mocha is immune boosting too! Enjoy the flavors and curative properties of superfood cacao, digestive aid peppermint and a hint of anti-inflammatory turmeric. No added sugar, no artificial flavors; just natural ingredients.
Serves 2 | Ready in 12 mins
Ingredients:
Method:
Steep and chill 2 tsp. Summer Tea in 1 cup water for 5 minutes (or 2 tea bags).
Blend together 1 tsp of Bliss Latte Blend, maple syrup to taste and 1 cup Summer Tea. Let it chill.

In another cup, froth 1 cup oat milk.

Pour in half of tea mixture and half of milk over 2 cups of ice.

Garnish with cacao.
Optional
Add your sweetener of choice.