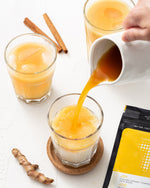 Stay golden with this Turmeric Chai Iced Latte recipe. Enjoy the curative properties of superfood ashwagandha, cinnamon, ginger and turmeric. This recipe contains caffeine, which makes for a great drink to fuel you throughout the day. 
Serves 2 | Ready in 10 mins
Ingredients:
Almond Milk

Maple Syrup

Ice
Method:
Steep and chill 1 tsp. Dawn Loose Leaf in 1 cup water (or 1 tea bag).
In a blender, add 1 cup tea, 1/2 tsp Joy Latte Blend, and maple syrup to taste.

Pour over 2 glasses of ice and add 1/2 cup almond milk in each glass.